I hope my historic place readers will forgive me that I've been more in the woods lately than in historic houses, but when you get down to it, there is no more historic site than the forest!
Yesterday, two friends and I celebrated a birthday with two hikes in the woods. First we hiked at Goshen Pond and I took many pictures; unfortunately my digital camera broke last week and I had to use a one-time-use recycleable camera. Yes, they do still exist.
The woods were indescribably beautiful because it was a wet snow and it clung to everything turning nets of briars into lace and outlining every black tree trunk and limb in white. All the paths were snow covered though the roads were a nasty ochre brown mud that splashed up behind your shoes onto your pants' bottoms. Nonetheless, regular woods hikers come prepared: We wear outer pants (in my case and one other friend's - ski pants!) and we bring extra socks and shoes to change into. After an hour in the snowy wonderland, we headed to La Campagnola Restaurant for the birthday lunch, Barbara Solem's birthday.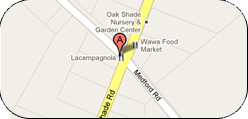 La Campangola Restaurant & Bar
439 Oakshade Road, Shamong, NJ, 08088
+1 609 268 0600
Reservations:
+1 609 268 0600
Telephone:
+1 609 654 4260
Catering:
We had a delicious stick-to-your ribs- lunch of pasta and tomato sauce , then, rested and refreshed, we headed back out to hike the orange trail. On the way home, at the end of the day, the rain had already erased the snow from the fields and rooftops. So I am especially happy that I was outside and enjoyed the last snow while it was hear and before it was defeated by the Lamb of Spring. Now, this morning, Saturday, March 9, it feels like spring has arrived, with a bright and powerful sun shining and rising temperatures.
Tomorrow is Lines on the Pines at Frog Rock Country Club. This year, I won't be presenting, I'll just be visiting. Here is a link if you think you might like to drop in and see paintings, beautiful pinelands crafts, hear music, or talk to authors who have written books about the Pines or who maintain internet web sites such as the "ghosttowns" site and PineyPower.
http://www.frogrockgolf.com/
AS for why I won't be presenting this year - I'm focussing more on hiking and my new vegan diet and taking time off from my formerly very busy schedule. It is a more meditative time for me and less active (well more walking less talking). Hope to see you at Lines On the Pines! And if not there, perhaps we'll cross paths on one of the woodland trails. Best part of hiking in winter, aside from the beauty is that there are no ticks or chiggers. Soon, I'll have to buy Frontline for my new dog Trixie and Off for myself. Trixie, by the way, has that magical dog ability to find a trail even in the snow. She was ahead of us the whole way, both going in and coming out and she never missed the turns at forks or intersecting trails. She is a great hiking buddy.